Rammed Earth is becoming an area of increasing worldwide interest as it offers exciting opportunities to architects, designers, construction companies, and homeowners due to its sustainability, construction process, materials, carbon footprint, and the involvement of diverse end-user communities.
The SAX Lofts, Golden Gardens, Ninth Road, Tesano, Accra.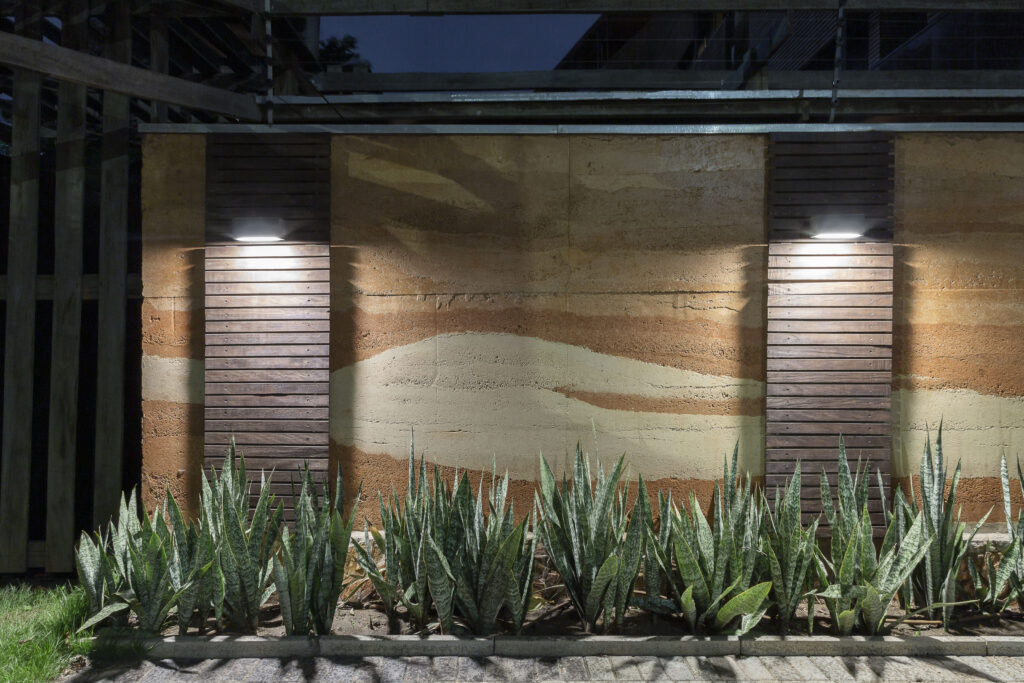 Plastics, Steel, Glass, Concrete, or Earth?
With the 'World Economic Forum' highlighting an "…affordable 3D printed home…" as a method and a good deal in the building of homes for Africans, such methods having been widely side-lined in Europe and North America, one may question why Africa?
How and where are the materials used to print the end house or products produced, and by whom? What of sustainability, or damaging to the environment when the buildings and products reach their end of cycle? How will this method financially, technologically, and socially empower African nations or improve self-reliance? If these too few questions cannot be answered to the benefit of the end user then a new question arises; who do such methods ultimately serve?
Are exploitive controls still being considered, or are new approaches to old methods needed now?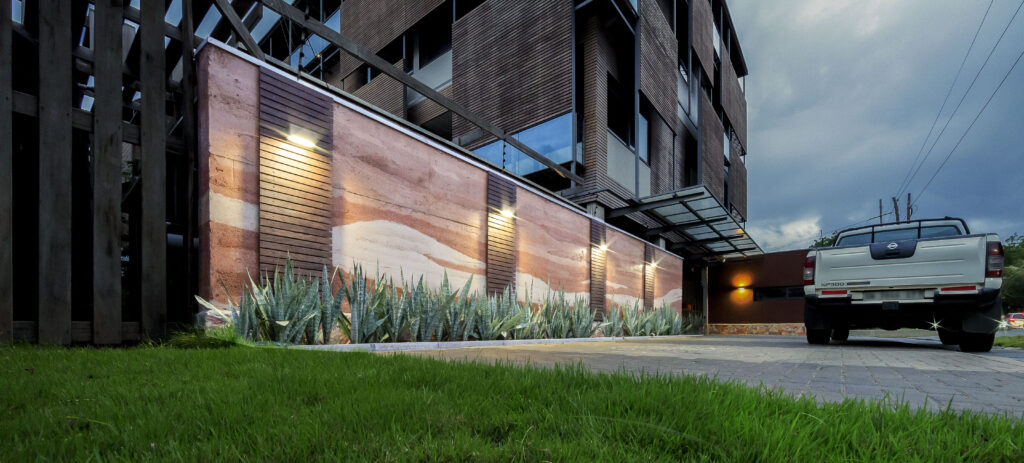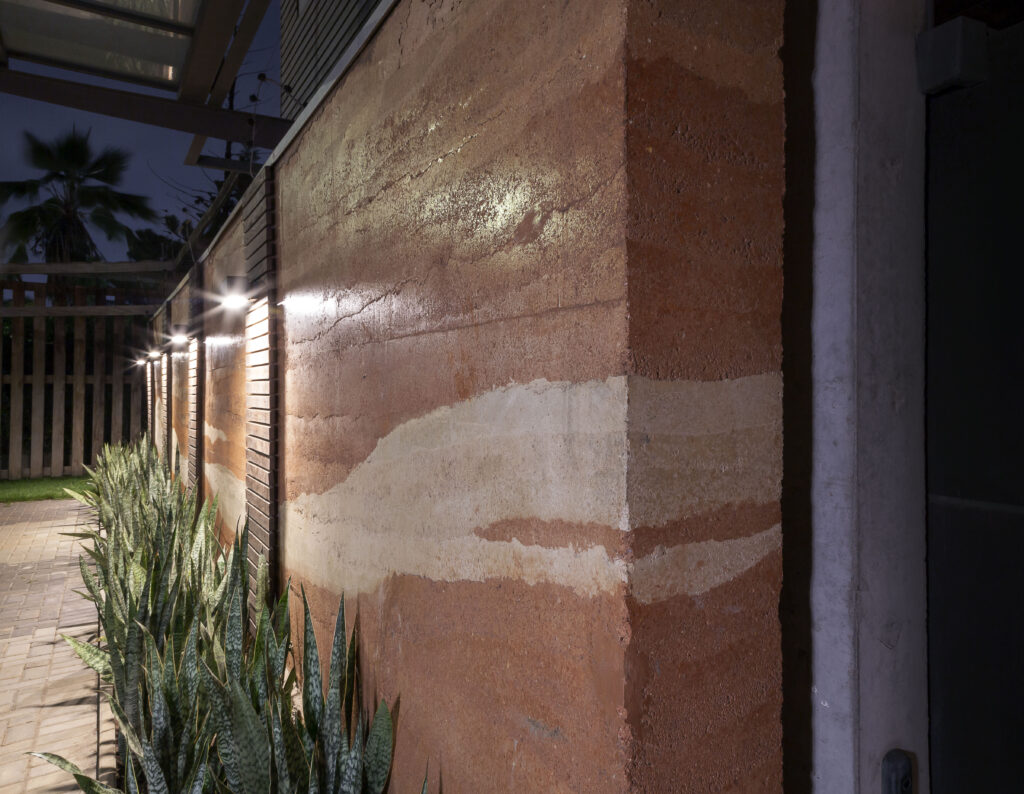 Tse Addo, Accra.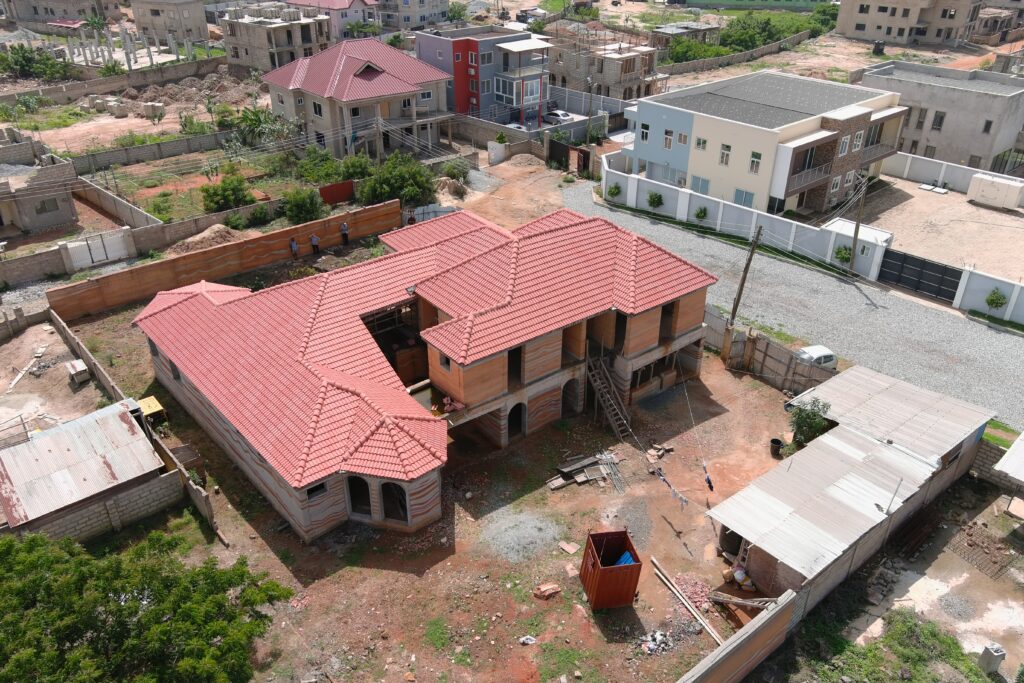 Earth is one of the oldest building materials and methods used by humans, which is accessible, sustainable, and historically used throughout the world. Although its use as a current building material may have fallen out of favour due to new materials, methods, and attitudes, as explained by business partners, and husband and wife team Kwame Deheer and Joelle Eyeson of Hive Earth, a Ghanaian company leading the way in Ghana's rammed earth industry; "…people associate earth homes with mud huts and with the advent of cement, many people didn't want to use mud in building their homes, so it fell out of popularity". Now with building contractors and leading architectural practices, such as RIBA's Gold Medallist Sir David Adjaye OBE's Adjaye Associates focus on rammed earth as a viable, ecological, and sustainable resource and method, is the world and Africa set on a renewed course?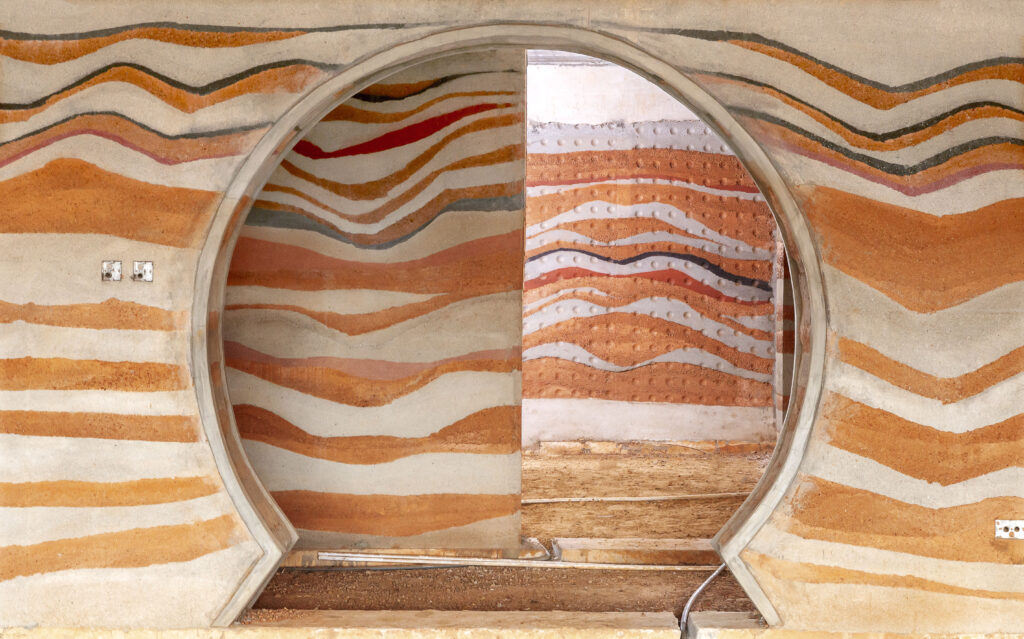 Four Storey Office Block, Sixth Circular Road, Cantonments, Accra.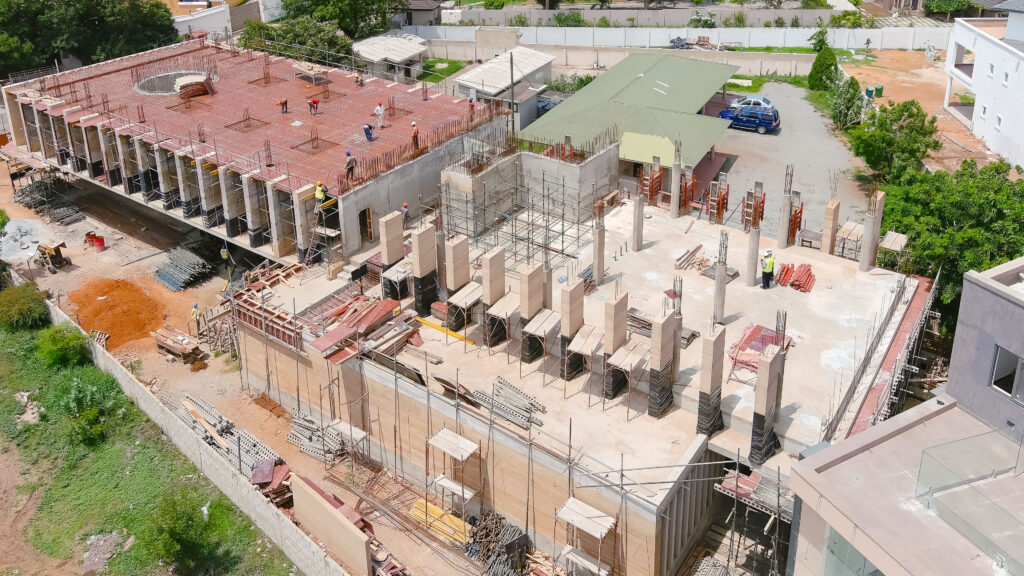 Architect David Adjaye is a public advocate of Rammed Earth as an ecological and sustainable method for the built environment and is increasing his practice's use of the method, wherever appropriate.
In this 4-storey office block, constructed in Accra; two competing structural technologies, concrete and rammed earth are seen being used side-by-side by the architects. Planning of the building project was underway when the architectural practice decided to use/replace a number of the walls with Rammed Earth, in furthering the project and practice's aspiration to create ecological and sustainable structures, and in part due to its aesthetic quality.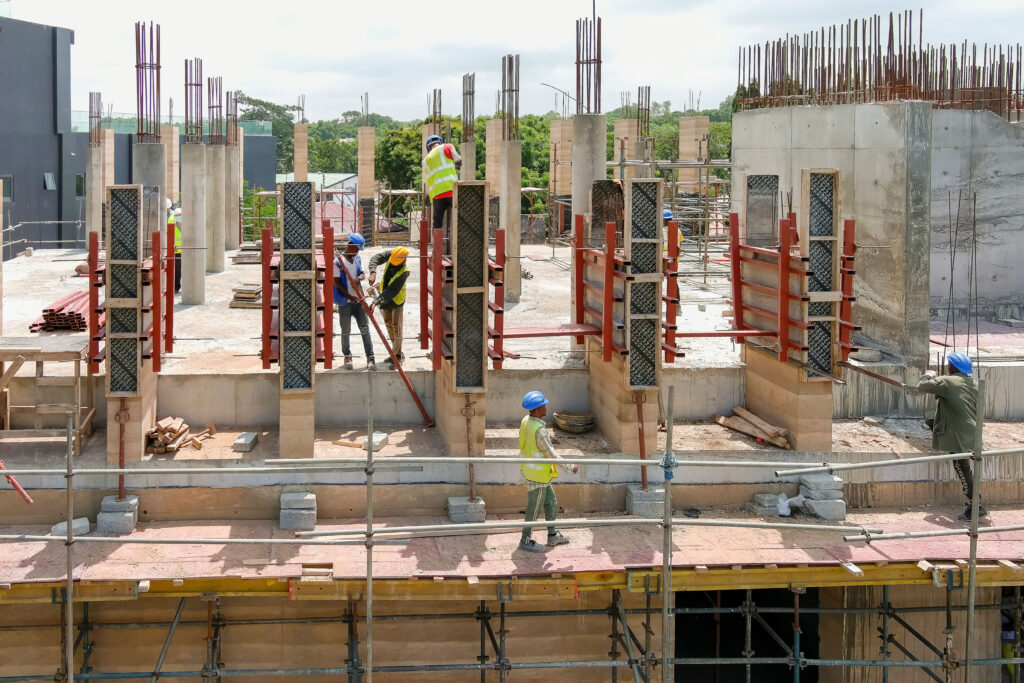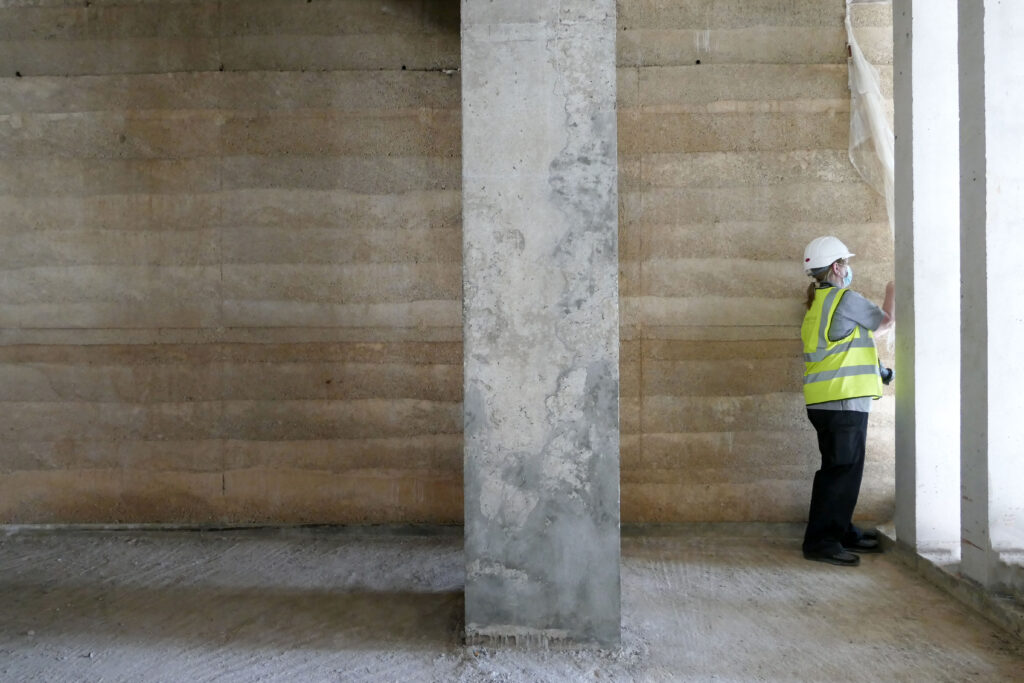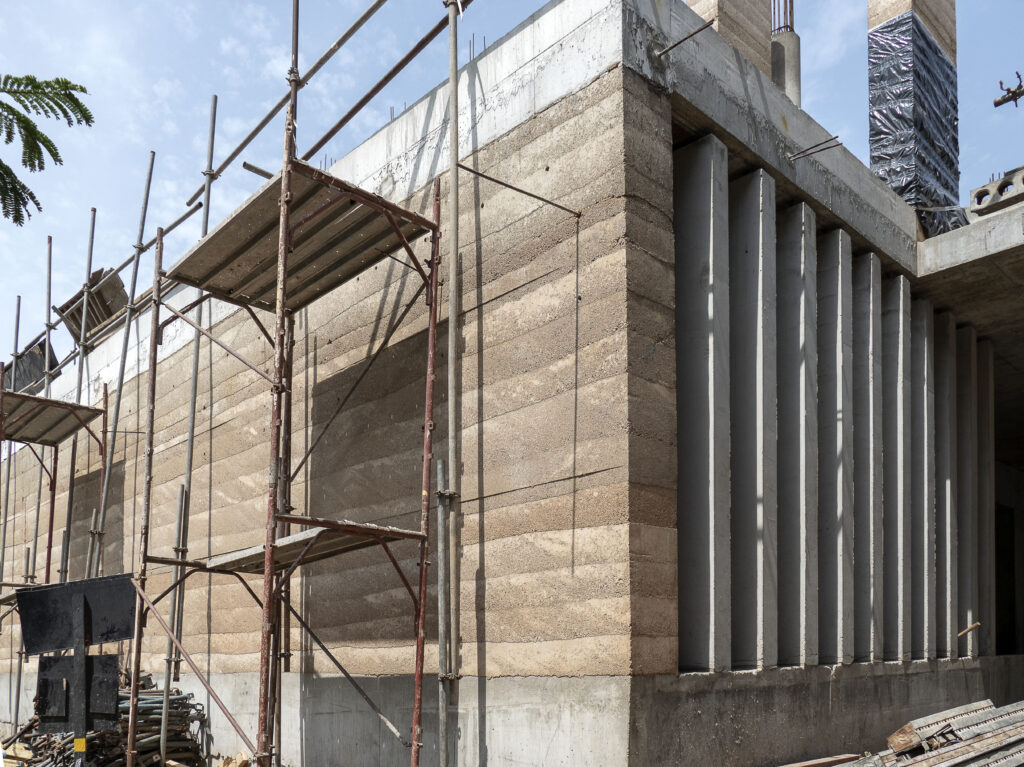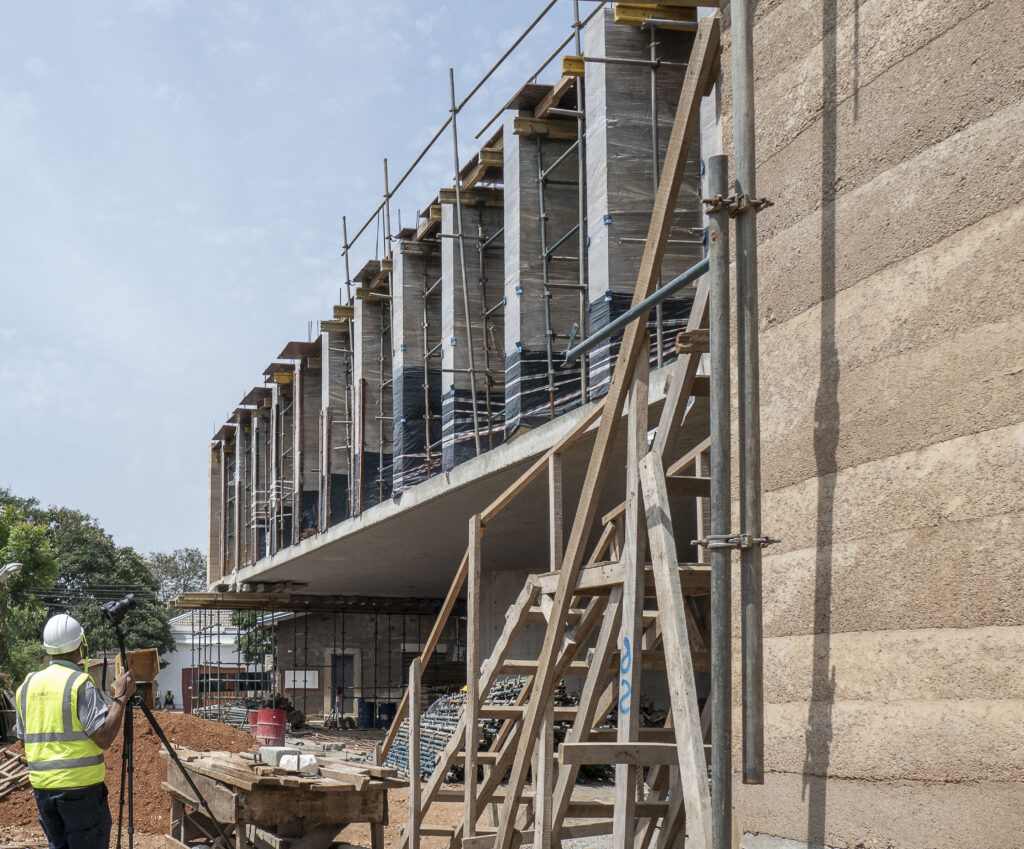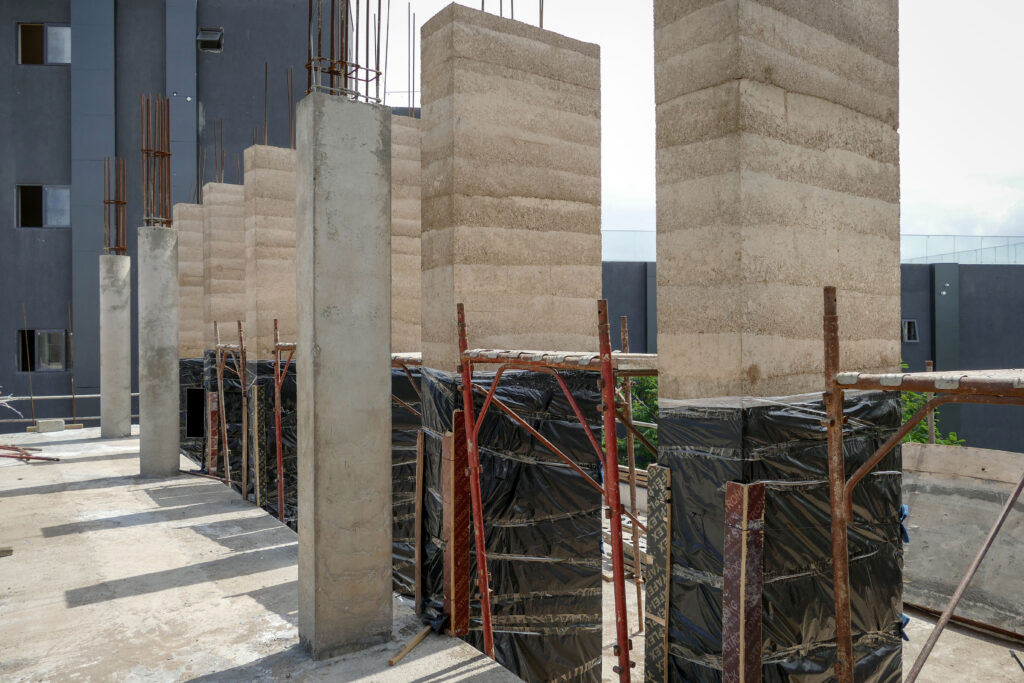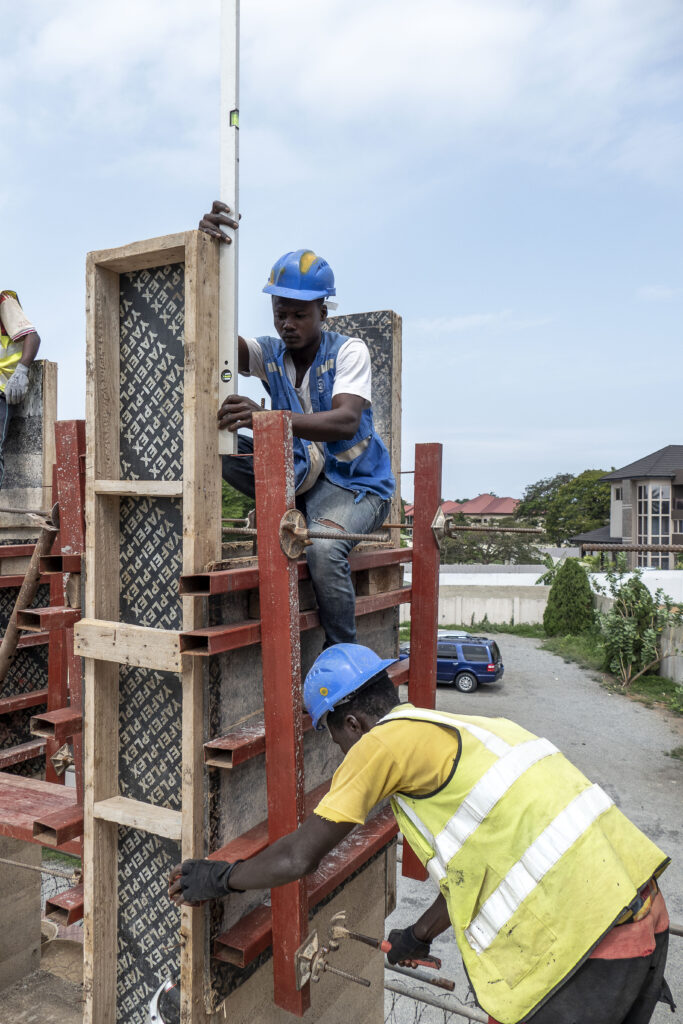 Legon City Lofts, Ataa Oko Ashi Avenue, Accra.
Wishing to increase the curb appeal, architects Orthner Orthner and Associates, for their award-winning (City Construction and Property Awards 2019) project, commission a rammed earth feature wall for Legon City Lofts, Accra, to act as an external boundary and aspirational statement for the project.  The use of this ecological and sustainable construction method for the built environment expresses the project's overall sustainability ethos.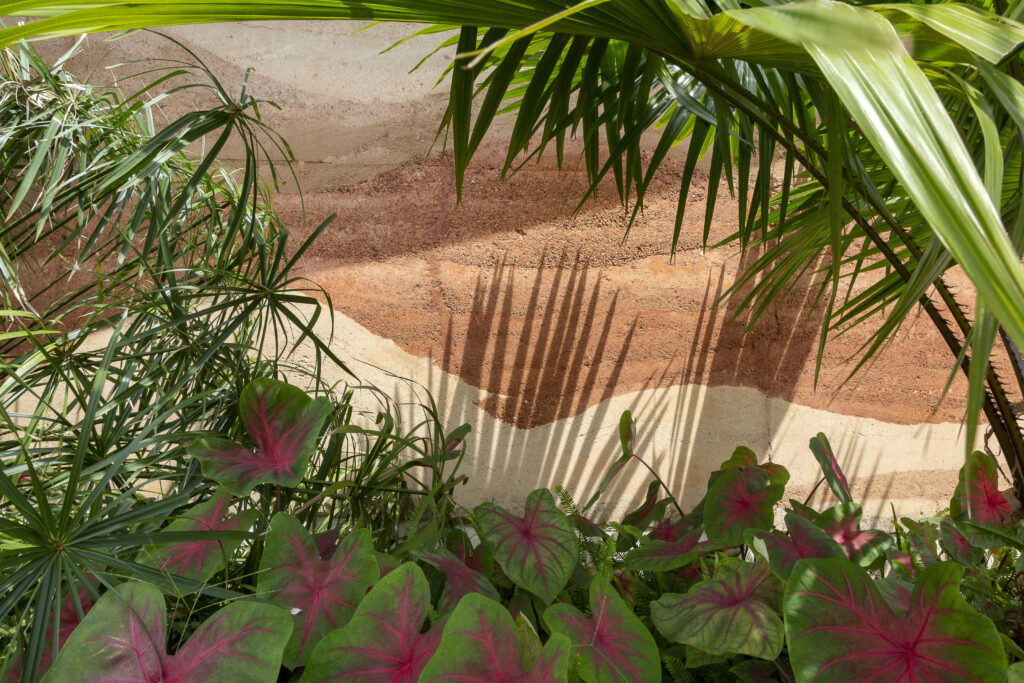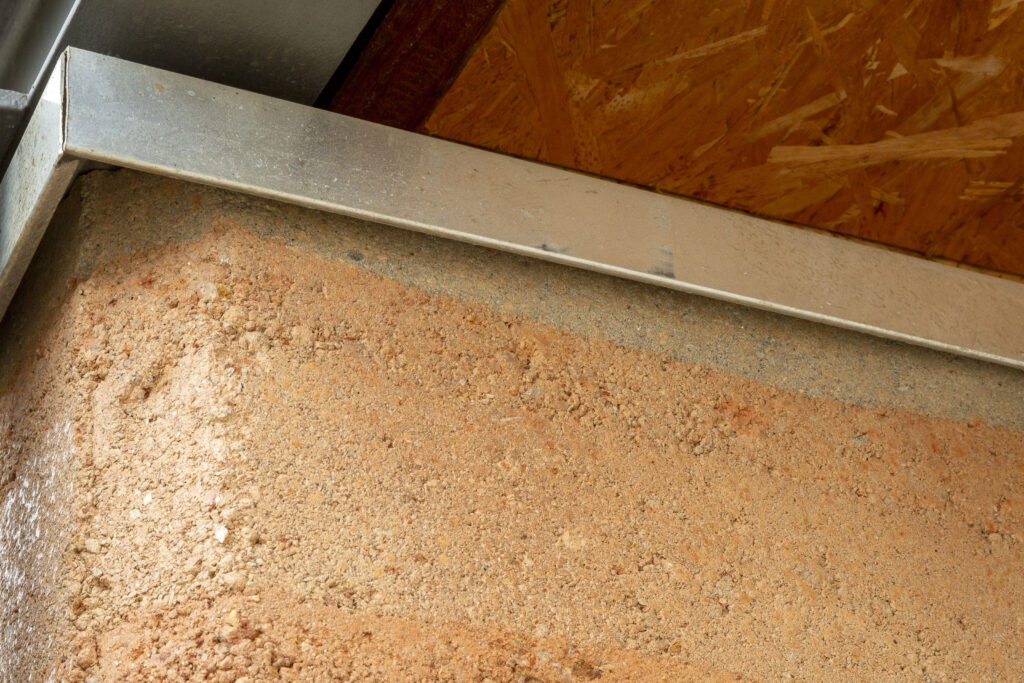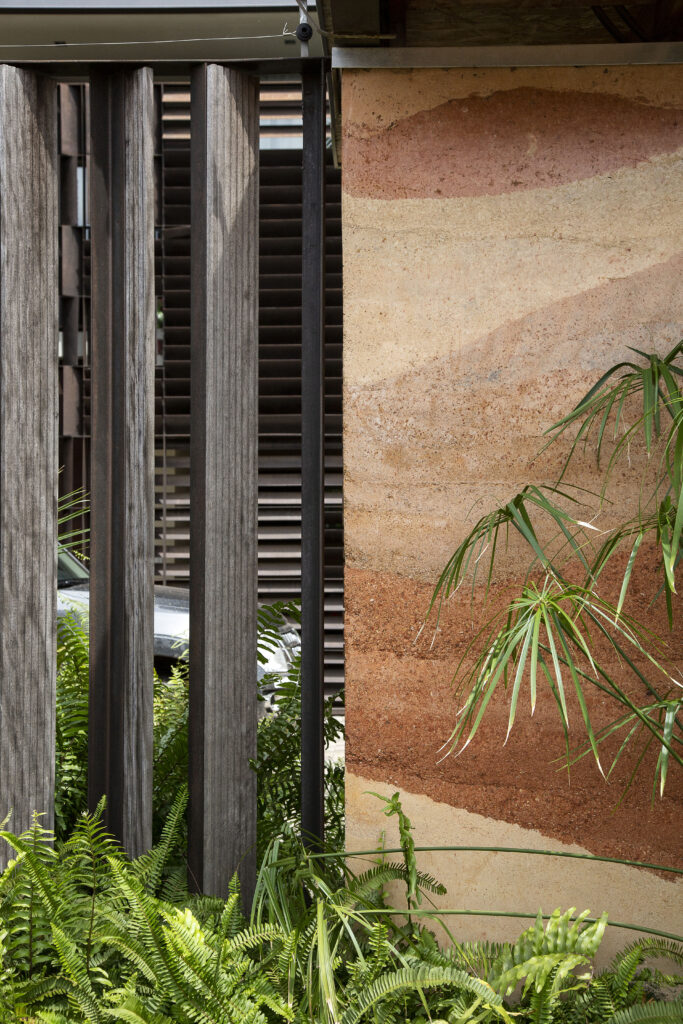 This project afforded rammed earth contractors to fully utilize what they had learned through trial and error, in furthering their vision of 'Construction Art' in producing these earth-wave designs, by utilizing the various types of earth available in Ghana and local to the site.
The process, of achieving the best results, is necessarily highly manual, producing employment for a young, energetic, and burgeoning society. This method of construction entails mixing earth, local to the site, with a measured quantity of liquid additives and cement. When a moist mixture is achieved, the earth is tipped by hand into formworks, containing steel rods for additional support, to a layer height of fourteen to sixteen inches. Then using a scaffold pole with a metal plate welded to it, the earth is rammed to a thickness of less than 50% of its height before repeating the process. Thereby creating a stable monolithic textured structure with the natural radiant heat properties of the earth.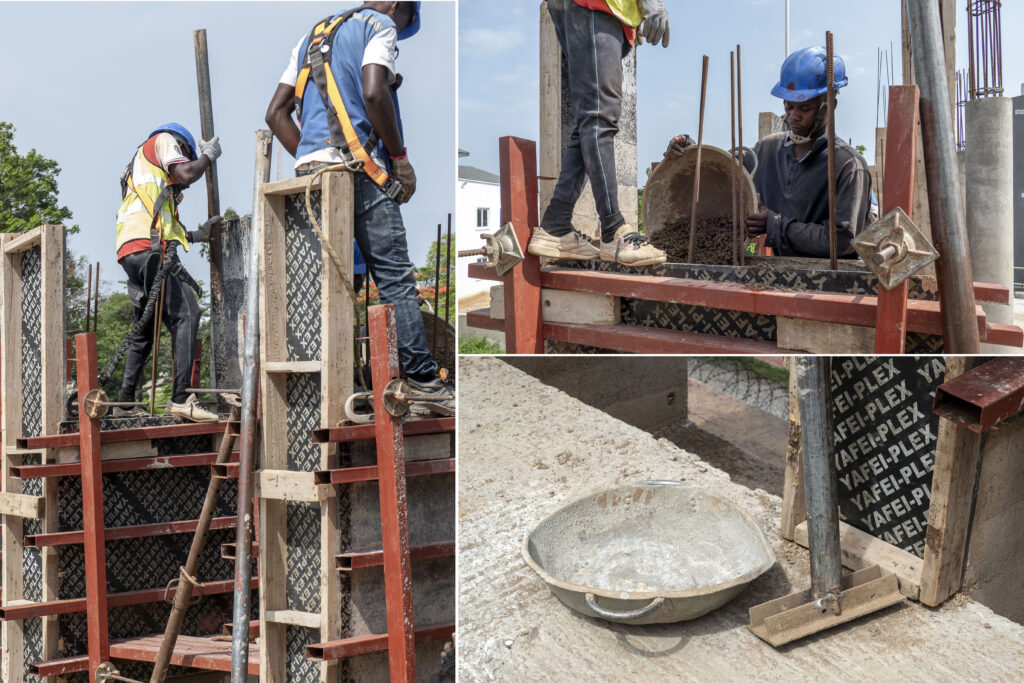 Mallam-Atta Market Clinic, Accra.
The majority of traders, plus those who come in to buy produce in the Mallam-Atta market are women. Of those, pregnant women in need of delivery services and others who need general medical assistance, have to travel long distances to receive health care due to the lack of facilities and their need to trade. This sustainable design by Orthner, Orthner & Associates, set in the heart of one of Accra's many bustling local produce markets, facilitate easy and timely access to health care for the rural community. The simplicity of rammed earth construction lends itself to sites, such as this, that are tight, to say the least. Built to extend and complement existing concrete buildings. This project benefits greatly from the cooling effects of thick rammed earth walls and windows placed high providing for heat dispersion and privacy as, according to the center's manager Brenda, the users of the center strongly dislike the use of air conditioning. In this building, the joining/fitting of walls shows the accuracy that is achievable with well-planned and executed formworks.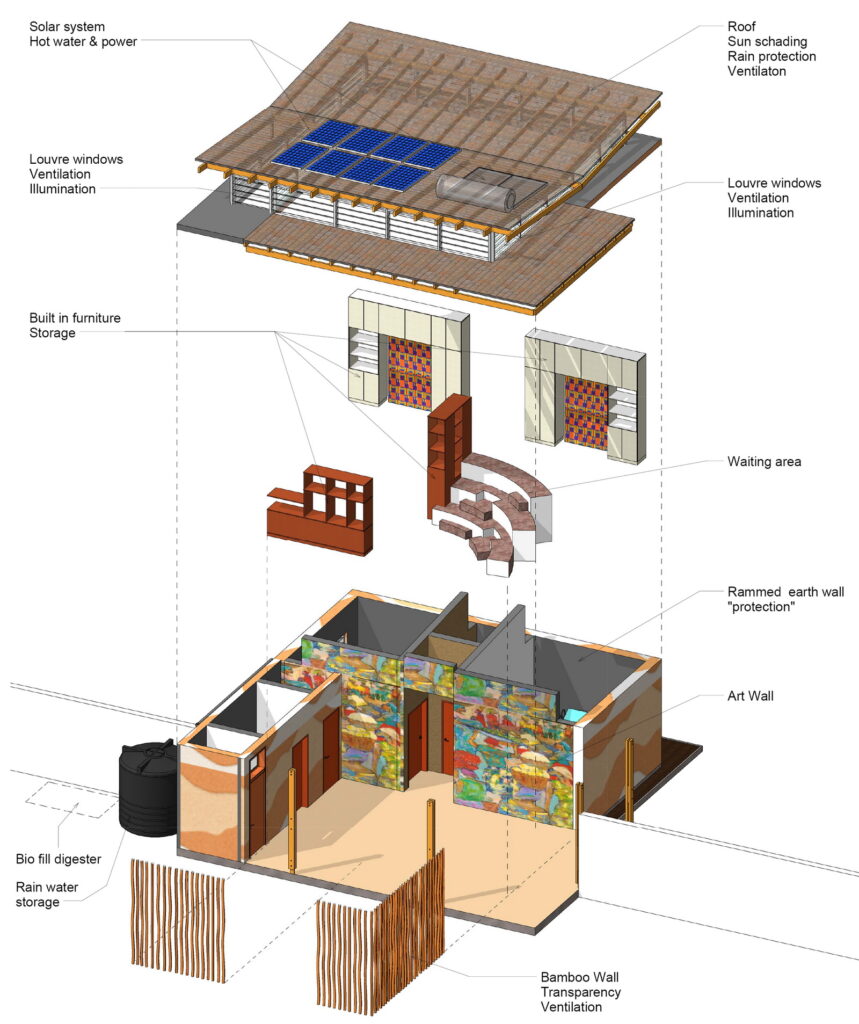 360 view of the interior construction progress at Mallam-Atta Market Government Clinic (MAMGC), Mallata Street, Kokomlemle, Accra, by architects; Orthner, Orthner & Associates. Main Contractors; Hive Earth, Accra.
Use a mouse or finger to rotate the image.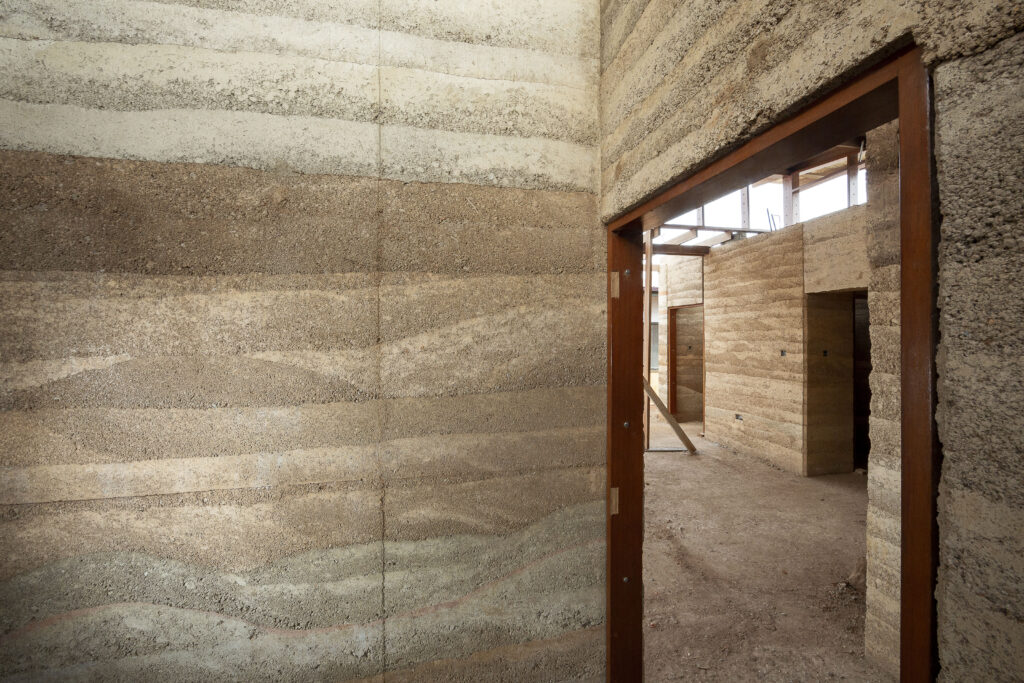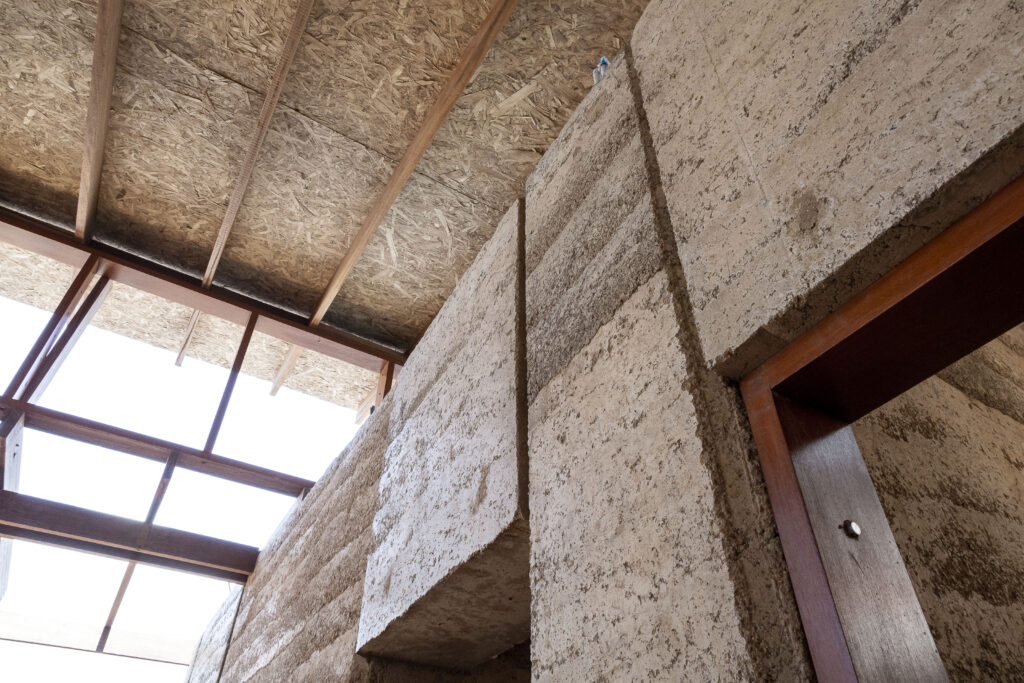 Earthly Aspirations
In addition to the construction of supporting or boundary walls and columns Hive Earth has experimented with the production of other forms of interest such as furnishing, which proved to be too heavy for general use. However, one idea that has shown to be worthy of further work is the creation of rammed earth wall and interlocking floor tiles.
End